Latest News
Photos & Video
For downloading participant photos, please search by entering the Team Number at the following website.
Video

Route

Blindfold Game

Baggage Storage Service
The Organiser provides free baggage storage service. Terms and Conditions
Service Time & Storage time limit
8:45am to 1:00 pm
(If fail to pick up the baggage before 1:00 pm, the Organiser will charge for the baggage storage fee of $200 per hour, for the donation to BGCA)
Venue
Ngong Ping Village ─ Court 360
Baggage Information
Each participant could carry one baggage*
* bag/stroller/small luggage (Baggage size should not exceed the dimensions of 48cm x 34 cm x 23 cm with maximum weight of 4 kg)
Notes
The Organiser will put the Luggage Card inside the participant pack.
Please fill in the contact information on the Luggage Card before storage.
Please do not carry or store any valuable items or dangerous goods.
The Organiser will not be responsible for lost or damage during the baggage storage.
Green Initiative
To support environmental friendly initiative, the Organiser will not provide disposable water cup. Participants should bring along your own bottle to refill water at the water stations. Three water stations will be set up respectively at the start point (start timing) and end point – Ngong Ping Village and CP6.
Theme Song

Press Launch
To promote the importance of children and youth mental health, a press conference of Blindfold Cable Car Challenge was held on 6 November 2018 (Tuesday) to introduce the event purpose and overview. A specialist was invited to provide a perspective on the local's children and youth's mental health situation, while a youth who had recovered from mental health illness shared her experience and adaptation process.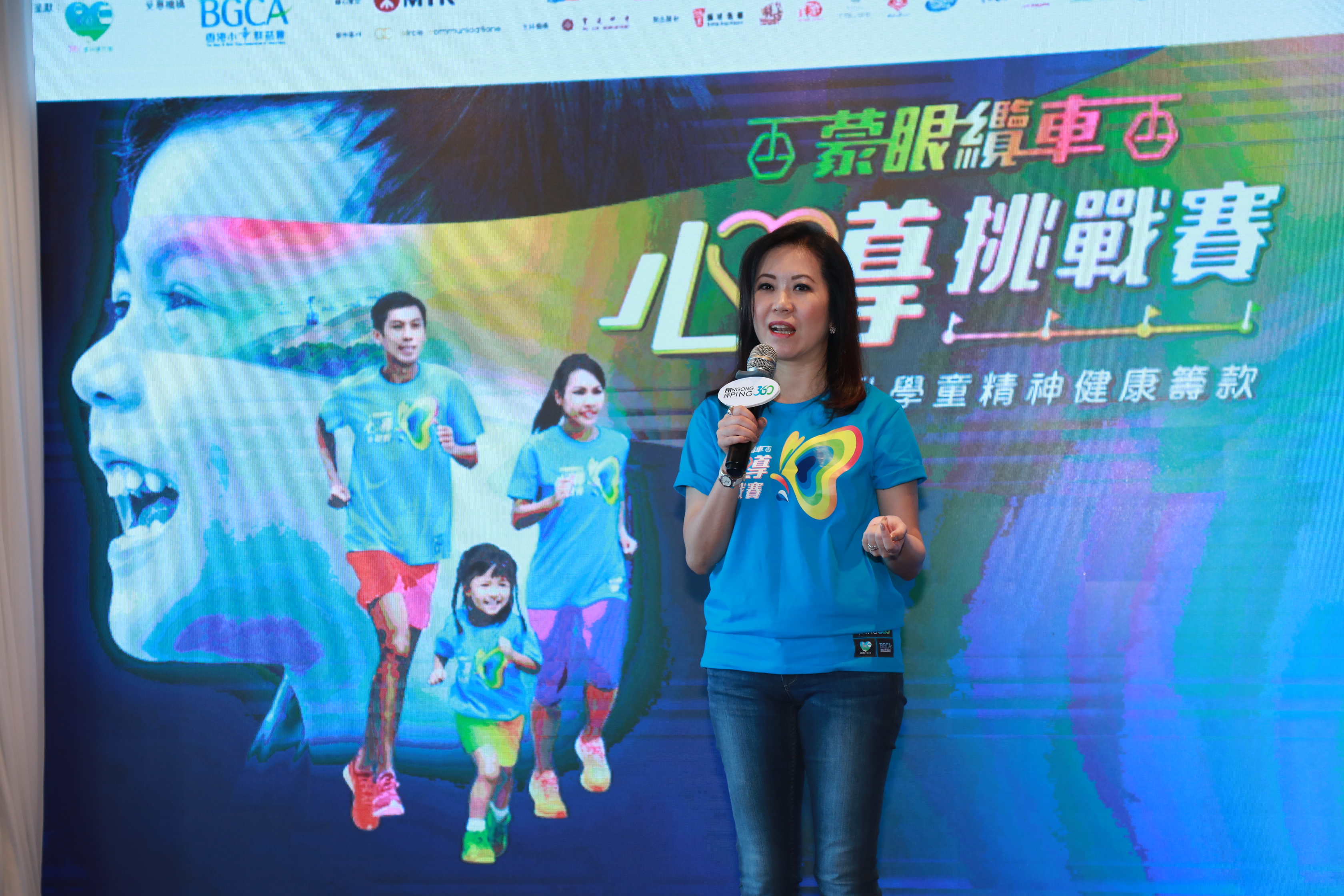 Blindfold Cable Car Challenge (BCCC)
Date: 13 January 2019 (Sunday)
Time: 8:30 am – 12:30 pm
Venue: Ngong Ping Cable Car, Ngong Ping Village, Big Buddha, Wisdom Path & Ngong Ping area
Team: 4km Family Team & 6km Open Team
More about BCCC
Join Us
Blindfold Cable Car Challenge is a charity event for everyone! No matter you run as 4km Family Team or 6km Open Team, participants have to complete the blindfolded tasks in the cable car. Our volunteers will guide you to blindfold your eyes, take selfie and upload the photo on Facebook or Instagram before continuing the Challenge. You can freely enjoy the beautiful scenery without blindfolding your eyes in the return trip. You are welcome to visit attractions nearby such as Ngong Ping Village, Big Buddha and Po Lin Monastery after the Challenge.
Register Now
Prizes
Open Team

Family Team

Champion

The team will receive:
Four vouchers for an NP360 round trip Crystal Cabin cable car ride (worth HK$1,260)
Empire City Huaiyang under Super Star Group coupon (worth HK$1,000)
Artisan de la Truffe coupon (worth HK$1,000)
Board game (worth HK$500)
A trophy
Total Value: HK$3,760

Second runner up

The team will receive:
Three vouchers for an NP360 round trip Crystal Cabin cable car ride (worth HK$945)
Empire City Huaiyang under Super Star Group coupon (worth HK$800)
Artisan de la Truffe coupon (worth HK$800) Board game (worth HK$350)
A trophy
Total Value: HK$2,890

Third runner up

The team will receive:
Three vouchers for an NP360 round trip Crystal Cabin cable car ride (worth HK$705)
Empire City Huaiyang under Super Star Group coupon (worth HK$500)
Artisan de la Truffe coupon (worth HK$500)
Board game (worth HK$200)
A trophy
Total Value: HK$1,905
Donation
Show your support on fostering children and youth mental health, donate to The Boys' and Girls' Clubs Association of Hong Kong!

Support Us